Vacaville Chamber of Commerce Committees
We highly encourage our Chamber members to get involved with the various leadership opportunities available through the Chamber of Commerce. Our committee programs offer a unique, grass-roots experience for businesses to engage in networking, advocacy, and outreach with our community and local policy-makers.
Have questions? Contact the Vacaville Chamber of Commerce at (707) 448-6424
Serving as the goodwill arm of the Chamber, the Ambassadors attend and assist at various events including: Grand Openings, Ribbon-Cuttings, Mixers, Wake-Ups, and Special Events. It is the goal of the Ambassadors to increase membership and members' knowledge of programs, services, and benefits of membership with the Vacaville Chamber of Commerce. The Committee meets monthly to plan for upcoming events. If you are interested in joining this fun group or want more information, email Chief Ambassador Kia Lutte at jmskia@gmail.com​.
Current Ambassadors include:
Matthew Alderete, Realtor
Victoria Barros-Ortiz, State Farm Insurance Agent
Ryan Bates, Ryan Bates Photography
Ralph Berumen, KR Insurance Allstate
Kimi Blaine, Crown Realty Property Management
Maria Brana, 95.3 KUIC
Jackie Brown, BeFit Financial Credit Union
Cheryl Bovee, Solano Mortgage
Judy Davenport, Friend of the Chamber
Cinthya Gamino, Pacifica Senior Living
Jennifer House, The SoulSpire Connection
Vera Gleason, Realtor
Stevie Gomez, The Reporter
Bill Hennig, Honorary Member
Lauri Law, Alkar Human Resources
Kia Lutte, Jackson Medical Supply
Petrana Mallque-Lozarova, Century 21 M&M
Bobbie Martinez, Pink Lemonade
Tahir Masood, Travis Credit Union
David McBride, McBride & Associates
Susan Rose, Farmers Insurance Agent
Denise Smith, Friend of the Chamber
Colleen Stafford, All Size Flooring & Carpet Cleaning
Vannessa Talbert-Jackson, Hyatt Place Vacaville
Rebecca Whitaker, Solano First Federal Credit Union
Andrew Whittaker, Wells Fargo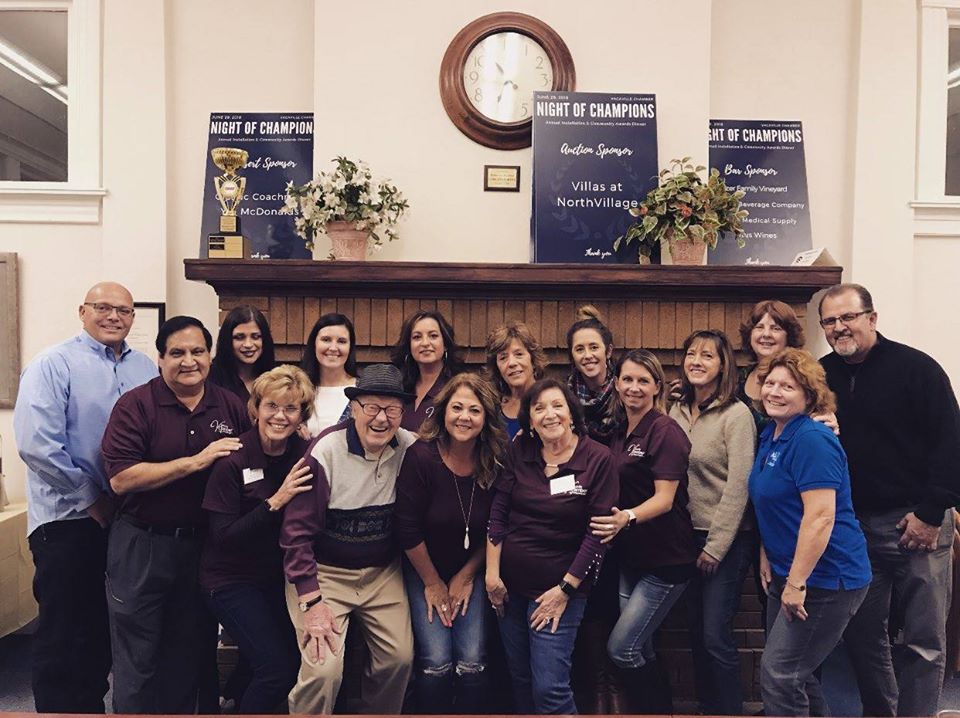 BAC-PAC (Business Action Committee & Political Action Committee)
The PAC exists to encourage active involvement in governmental affairs, keep the public informed, and to support issues and candidates for local impact. This committee seeks members who are willing to recommend endorsements for the Chamber Board's consideration.  For more information contact Michael Fortney at  MFortney@PlacerTitle.com.
Business Issues & Advocacy Committee
Monitors, evaluates and acts upon proposed city, county and state issues which could affect the Vacaville business community. This Committee coordinates the Vacaville Chamber's premier annual advocacy event - Movers & Shakers Breakfast Summit. Business forums are hosted to educate and connect business leaders. For more information email Sandra Over at Sandra@vacavilleoperahouse.com.
Business Resources Committee
Promotes interaction between educational partners and the business community and provides education tools for business. This Committee currently coordinates Inspire: Dreams Start Now, Work Ready Certification Program, VacaWork.com Job Fairs, Social Media Monday, the Leadership Today Program, and Vacaville Employee of the Year Recognition Banquet. For more information email Victoria Barros-Ortiz at  victoria.ortiz.m36u@statefarm.com.
Fundraising Events Committee
To support the Vacaville Chamber's robust member benefits portfolio while maintaining its reasonable dues structure, Special Events are scheduled to raise funds through the community. The Committee plans the Night of Champions Annual Dinner and the Annual Golf Classic. For more information email Ralph Berumen at rberumen.rb@gmail.com.
This Committee evaluates Recruitment and Retention programs for Chamber membership. For more information email Ryan Bates at  Ryan@RyanbBatesPhotography.com.